Poultry CEOs Forum & PF Awards
The fifth edition of Poultry CEOs Forum India & PF Awards 2018 to discuss, analyze and to come out with concrete ideas and plans to accelerate growth and development in poultry industry in India. The Forum will be held on 9 August 2018. The venue for the Forum and the Awards function is Hotel Taj Deccan, Road No.1, Banjara Hills, Hyderabad. The Forum is being organized by Poultry Fortune, the national English monthly magazine on poultry industry in India (27 years old media organization) with the support from different bodies of the sector.
This year's Forum will also focus on younger generation entrepreneurs in the industry as they are the stakeholders who have to take this sector to further heights with better ideas and performance. Hence young entrepreneurs from different segments of poultry industry are invited to participate and share their ideas and plans in the forthcoming Forum.
Who can participate in the Forum?
Senior Government Officials, Stalwarts, Entrepreneurs, Experts and Intellectuals will address and make presentations on different subjects / topics in the Forum. We invite prominent Farmers, Integrators, Pureline & GP Operators, Hatcheries, Feed manufacturers, Nutrition & Healthcare Products manufacturers, Automation, Equipment & Machinery manufacturers, Processors, Veterinarians, Financial institutions etc to get inputs for the development of this sector in the nation.
Besides identifying issues / challenges the Indian poultry industry facing and the solutions, the Forum would also provide a unique platform for knowledge and best practices sharing among the entrepreneurs, management personalities, manufactures, service providers and other segments of the industry on strategic priorities like sustainability, technology, quality and safety of products, marketing, profitability, value chain etc. which are important to the advancement of poultry industry. The Forum's success is driven by the active participation of the key players in the industry, who together develop and lead the implementation of best practices in the interest of the industry and individuals.
We look forward to your participation in poultry CEOs Forum & PF Awards 2018.
Delegate Registration Form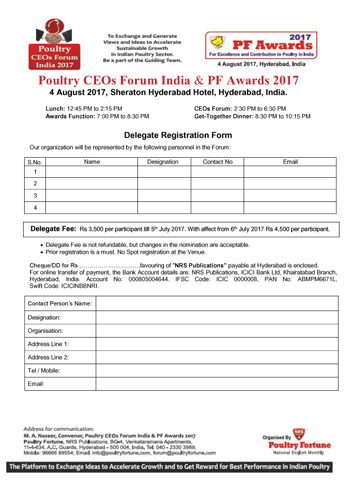 ---
Invitation of Poultry CEOs Forum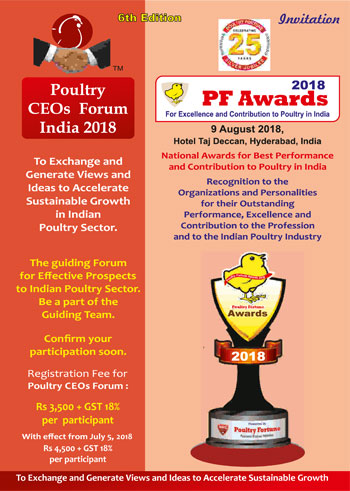 ---
Nomination Form for PF Awards 2018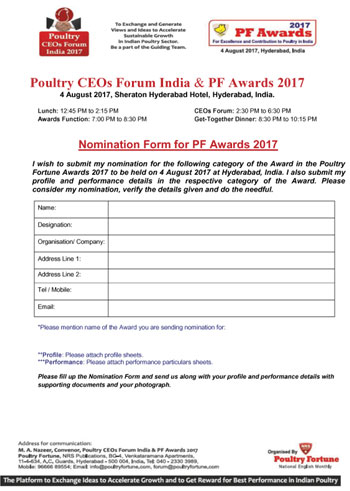 ---
PF Awards 2018 List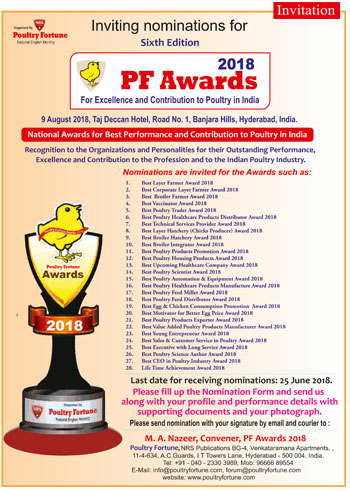 ---